Our suite has a sitting-room where you can prepare your next day's visits of the region or you can enjoy the view from the balcony on the village of Assier.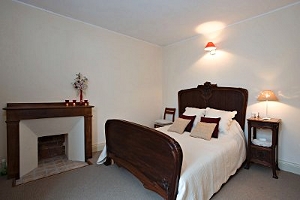 The 1m60 wide bed is equipped with a modern and comfortable mattress. The bathroom includes a shower, washing bowl and toilet.
The price for room lot is 85 € per night for two persons (breakfast included). Tourist tax not included (0,80 € per night and per person).
Please contact us for availability or for booking.
---
The river Lot ('Òlt' or 'Òut' in the Occitan language) lends its name to this department in the Midi-Pyrénées region, just like the neighbouring department 'Lot-et-Garonne'. The river flows from the Lozère department (in the Languedoc-Roussillon) down to the Garonne in Aiguillon. On its way you'll encounter the picturesq village of Saint-Cirq-Lapopie and the historical city of Cahors, the capital of the Lot.